Clarinet BER-Encoder Tool
Function of the program
The Clarinet BER-Encoder Tool allows to encode ASN1 fields according to Basic Encoding Rules and to include the resulting string as a content of the FACILITY Information Element of ISDN or QSIG protocol.
The BER-Encoder program is provided as an additional Clarinet tool delivered in the Clarinet Run-time Package. It supports the following functions:
file management: saving, importing templates.
line edition of ASN1 facilities applied to ISDN, QSIG protocols.
generation of Hexadecimal ASN1 strings.
Installation of BER-Encoder program
The BER-Encoder program is automatically copied by the Clarinet Run-time install procedure (version greater than 10.1). Under the Start/Programs of Windows, the Clarinet x.y group includes the Clarinet BER Encoder shortcut providing access to the Berencod.exe file located in Clatools directory:
Running BER-Encoder program
After launching the program from Windows, it displays a panel on the Windows Desktop. The Standard toolbar includes a File access and a Help access. The Edition toolbar includes the features to modify/create the ASN1 content.
Importing a template of ASN1 facility
The Clarinet Run-time package includes factory-designed templates for QSIG Supplementary services. The files (extension .acb) are accessible by 'File/Import' command and located in the QSIG subtree of Templates.
Opening an existing file of ASN1 facility
The results of edition by the Clarinet Berencoder tool is saved by the 'File / Save as' command under an Acacia format. The files are accessible by the 'File/Open' command and displayed according to the ASN1 notation.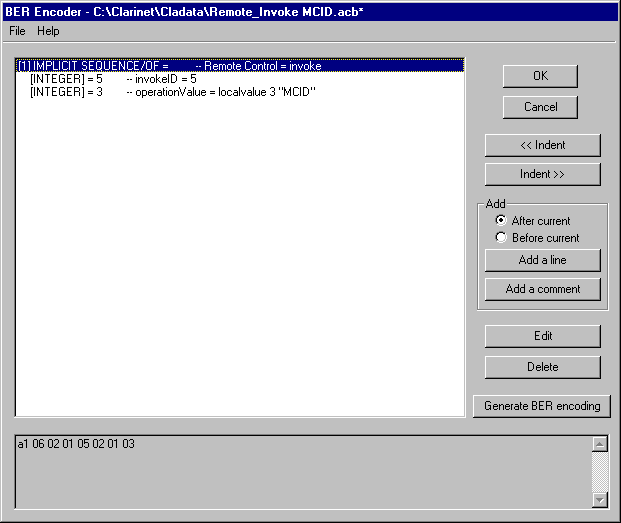 The editor function of the toolbar allows to:
- add and edit lines

- add and edit comments

Other functions allow to indent each line.
Generating the Hexadecimal string
The function 'Generate BER encoding' displays at the bottom of the panel the string corresponding to the ASN1 lines displayed in the edition area of the panel. It should be selected, copied and pasted into the Facility IE content (octet 3.1 and following ones). The octet 3 must be generated from the profile editor in QSIG profiles or ISDN profiles.
- ISDN profiles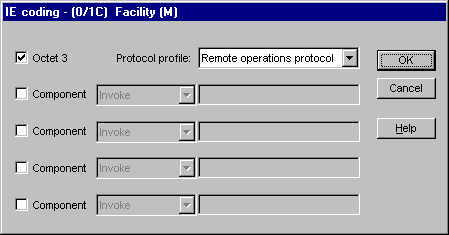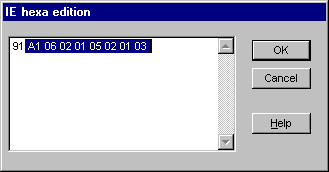 - QSIG profiles